Crocker on dirt (1931 - 1934)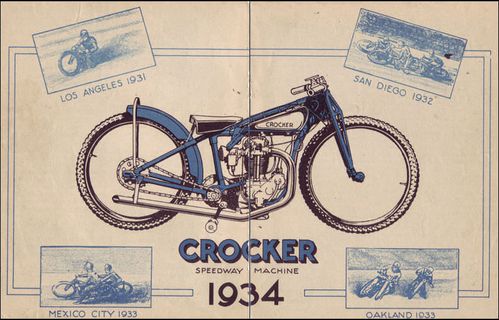 Au début des années 30, le speedway tel que le pratiquait la vieille Europe connût une certaine vogue dans la jeune Amérique, en quête, depuis l'interdiction des courses de boardtrack, de nouveaux jeux du stade pratiques à organiser.
En 1931, Albert Crocker, concessionnaire Indian pour la région de Los Angeles, mit en route le projet d'une moto de speedway animée au départ par un 750 cc d'origine Scout monté dans un cadre maison. Viendront ensuite d'autres moteurs Scout dégonflés à 500 cc pendant les saisons 1931 et 1932.
En 1933, la jeune marque sortit son monocylindre à soupapes en tête de 500 cc qui développait alors près de 40 chevaux. Dépassé par les moteurs Rudge et JAP importés d'Angleterrequ'utilisaient les motos de ses concurrents sur les cendrées, Albert Crocker abandonna le programme de speedway en 34 pour se consacrer au développement de son désormais légendaire V-Twin de route. Mais c'est une autre histoire...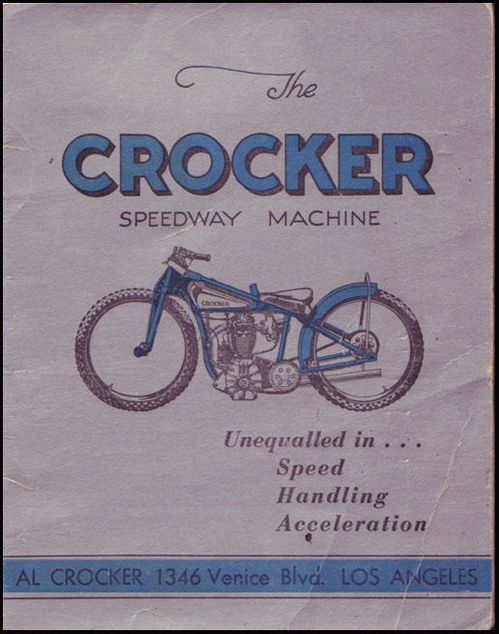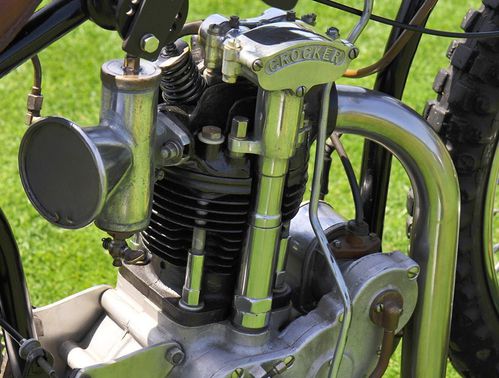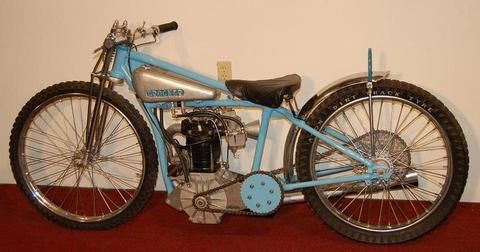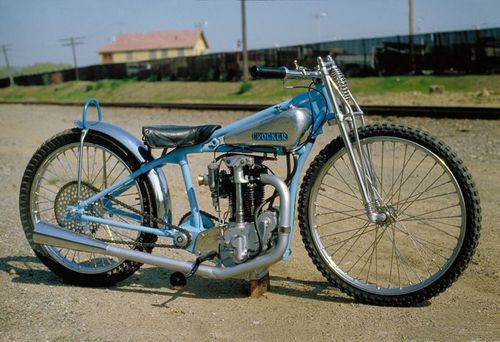 1934 Crocker speedway machine:
Bore: 3 1/4 in (82.55mm)
Stroke: 3 5/8 in (92.085mm)
Displacement: 30.06 cubic inches
Compression Ratio: 14 : 1
Crankpin: 1 1/8 in, drilled for oil
Main Shafts: 1 in, with 7 degree taper
Bearings: roller for mainshafts and crankpin
Valves: 1 3/4 in, set at `close angle' in `shallow domed interior'
Valve Springs: three coil springs per valve
Ignition: gear driven Lucas magneto
Carburetor: two bowl Amal
Power Peak: at 6,000 rpm
Fuel: alcohol
Frame: chrome molybdenum tubing
Gear Ratio: for 1/5 mile track, 8.75 : 1
Weight: 235 pounds
Cost: $385 (1934)
Sources : Black County biker pour les infos et American Wind, Black County Biker et Google images pour les photos.